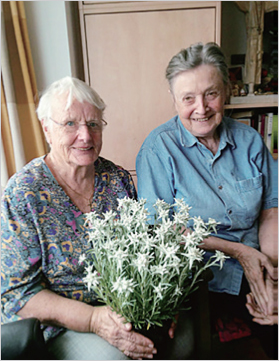 1

Objective

This project is to enhance campaign promoting the two nurses, Marianne and Margaritha for the Nobel Peace Prize who dedicated 40 years of their lives to the selfless act of caring for the Hansen's disease patients in Sorok Island, far southwestern part of Korea. They raised the awareness of patients' human rights and performed humanitarian love for vulnerable people with no hope. As professional nurses they became the role model in Korea. In this respect, we recognize their achievement and together with the people of Korea, honored to recommend them to the honorable Nobel Peace Prize.
2

Statu

In November 23, 2017, Jeolla-Namdo Provincial Government, Goheung County and the Marianne& Margaritha Association established the Pan-National Recommendation Committee on Petition Calling for nominating Marianne and Margaritha for the Nobel Peace Prize headed by the former Prime Minister Kim Hwang-Sik. The committee includes Korean Nurses Association, central & provincial governments, Businessmen, lawmakers, international organizations and related associations who showed strong support and conviction.
3

Who Are Nurses Marianne and Margaritha?

The two Austrian nurses volunteered when they heard that Sorokdo Island was in need of nurses. After coming to the Island in their 20s, they spent all their lives taking care of Hansen's Disease patients. Marianne Stöger and Margaritha Pissarek came as professional nurses, but the staff called them "Sisters", and the patients called them "Grannies". The press refers to them as "The two Angels of Sorok Island". The patients were surprised twice when the nurses arrived. First was their appearance; the patients had never seen a foreigner with blue eyes and blond hair. Second was the way they treated the patients. During that time, hospital doctors and nurses armed themselves in masks and gloves and had the patients sit as far away as possible during treatment whereas the two new young nurses only put on white gowns and touched the patients' curled up fingers and toes without any gloves. They would directly apply disinfectant thoroughly to the patients' body with their bare hands. They never minded even when their faces have been splatter with the blood and pus from the wounds. It was the patients, not the nurses, who were more frightened.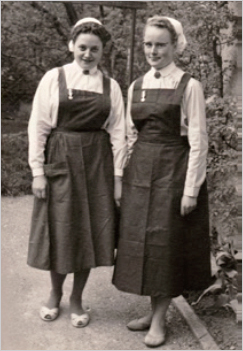 Moreover, after the Damien Foundation left Korea upon termination of the contract, they decided to stay behind to take care of the patients as volunteers. The nurses excelled in leadership as professional nurses but also as advocates of the patient's rights. In order to improve the environment, they asked the Austrian Catholic Woman's Association and hospitals in their homeland for medical assistance and daily supplies. They built wards for patients suffering from tuberculosis, blindness and mental illness. In addition, they built sanitary facilities and improved children's nursery who were isolated from their parents. They lived in a humble 10m² room that had only basic furniture such as a small chest of drawers. Quietly, but with firm determination, they devoted themselves to caring for the patients for 40 years and with their loving care and devotion, the number of patients decreased drastically from 6,000 to 500. When their health began to decline in November 2005, they quietly returned to Austria leaving a single note behind saying that they did not want to be a burden to the people. Nurses Marianne and Margaritha broke the social prejudice people had toward Hansen's disease patients by treating them as equal human being and helping them to restore dignity. Today, it is now customary in the Sorokdo hospital to serve the patients with bare hands. Their dedicated service became a role model creating a "Heaven for both Hansen's disease patients and volunteers". Today the Sorokdo national hospital is crowded with medical and other volunteers from all over the nation every year.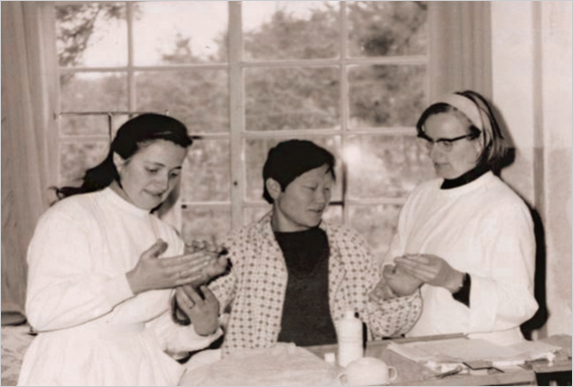 ▲ Nurses Margaritha (left) and Marianne (right) nicknamed "Angels of Sorokdo Island" caring for a patient at the Sorokdo National Hospital in Goheung County, South Jeolla Province. By courtesy of Ministry of Justice

Korean Nurses Association formed a Processing Committee to enhance the petition calling for the recommendation of nurses Marianne and Margaritha for the Nobel Peace Prize in this special Year of Nurse and Midwife celebrating the 200th year of the birth of Florence Nightingale.

We would like to honor their sacrifice and dedication as valuable assets of humanity. Their love has turned Sorokdo Island into a paradise island of healing and hope, and deeply engraved in the hearts of the Korean people. We hope their legacies be shared by global nurses and citizens.